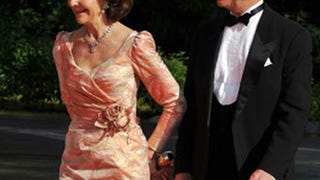 As though elk-hunt threesomes and sex romps weren't enough, the Swedish royal family is being rocked by another scandal: their Nazi past.
"There's a silent epidemic making the rounds at my college," writes Charlotte Steinway. And it can't be treated with a pill, because it's "fauxting," wherein people pretending to be engaged with technology to avoid social interaction.
Politician author and former-faux-baby-daddy Andrew Young, with wife Cheri, faced Oprah's patented moral outrage today. And Cheri had no qualms about describing the alleged Edwards-Hunter sex tape. Warning: your brain may require a light scrubbing.
In what the Edwards family can only regard as divine intervention, Fascinating Person Jenny Sanford's new PR blitz sticks Mark squarely back in the dog-house:
In our hyper-competitive society, it's natural that everyone should want to be the best. Or the worst! 'It's worse than Eliot Spitzer!' Mark Sanford's son allegedly exclaimed of his father's affair. But that's nothing compared to Edwards! Or Ted Haggard!
We got a number of distressed emails about a recent piece in Details. Possibly because the description read, "Getting tricked into fatherhood by a woman hell-bent on getting pregnant is much more common than you think." Good to know!
A teen version of The Secret is coming out in the fall, which will help teens to "live their dreams." If this had been out ten years ago, John Cusack and I would have several kids by now. [AP]
We didn't think we could still use the words "shocked" and "Dov Charney" in the same sentence, but if true, the latest revelation about American Apparel's Chief Executive Sleaze is truly horrifying. According to legal journal "On Point News", when the latest in a string of female employees, Mary Nelson, charged…