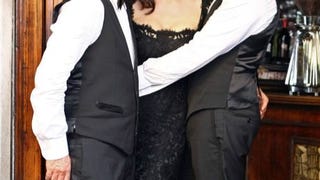 Friends, this is the best show you're not watching. Where else can you see a civil war reenactment with half-dressed hunky soldiers and fluttering false eyelashes?
The Calvin Klein Collection & Los Angeles Nomadic Division 1st Annual Celebration For L.A. Arts Monthly and Art Los Angeles Contemporary - yes that's the name - was star-studded and typically understated...except when it wasn't. Like when Jared Leto appeared.
This Thursday, the long waited sixth season of Project Runway will air on TV. But can the show weave the same magic it once did?
The challenge on last night's Drag Race was to "channel Oprah." At first, some of the contestants thought that this meant doing blackface. But no! It was something worse: Reading a teleprompter.
The bottom two contestants last night on RP's DR were troublemaker Akashia and quirky Tammie Brown, who had to "lipsync for their lives." They mouthed a song by guest judge Michelle Williams from Destiny's Child.
Deets on the Diane von Furstenberg comic book! "With 'Be the Wonder Woman You Can Be, Featuring the Adventures of Diva, Viva & Fifa,' the new comic book she authored, she doesn't just turn herself into a bonafide superheroine, but offers inspiring tales about women and the life-empowering choices they face — all with…
Fashion week officially starts today, but it kicked off last night with an event at Saks: To celebrate the 70th anniversary of The Wizard of Oz, various designers created Swarovksi-crystal encrusted shoes inspired by the Ruby Slippers. The heels are on display in the windows and on the shoe floor in the store; later…
Shocking news, this: Reality TV stars? Sorta unhappy. Actually, make that really unhappy.! In a heart-wrenching "Where are they now?" moment, the new issue of New York magazine checks in with some of our favorite former Project Runway stars to see just what they're lives are made of now. Turns out, there not much of…
If it's true that E! is trying to make an E! True Hollywood Story on Project Runway (and that the Project Runway PR folk are up in arms about it), well then, we're happier than Heidi Klum when she gets to say "goodbye" in her native German. There's so much juicy, yet unexplored, stuff about the show, like who hates…