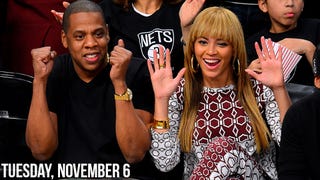 Vote today, you guys! Vote! OK? Even if you're just a sycophant with no political leanings, vote because your favorite celebrities want you to. As Jay-Z substituted "Mitt" for "bitch" onstage during "99 Problems" at an Ohio rally for President Obama, Beyonce was at home writing a very nice letter to our president:…
[Toronto, September 18. Image via Getty.]
Michael Lohan won't have to introduce Lindsay Lohan to his fiancée Kate Major — Back in 2007 she was Lindsay's assistant/close friend. Kate even picked Lindsay up from rehab, but Linds dropped her when she started getting close to Michael.
"The mortal son of Zeus embarks on a perilous journey to stop the underworld and its minions from spreading their evil to Earth as well as the heavens." But at Clash of the Titans' London premiere, we were powerless.
[Hollywood, December 18. Image via Getty.]
A judge has approved an agreement granting Katherine Jackson permanent custody of Michael Jackson's children. Debbie Rowe, who did not attend the hearing, agreed not to fight for custody in exchange for visitation rights.