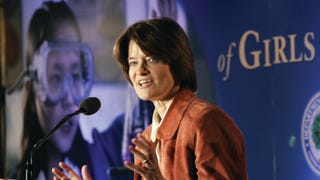 To coincide with the tribute to U.S. Astronaut Sally Ride's life that occured at the John F. Kennedy Center for the Performing Arts in D.C. last night, President Obama has awarded Ride — the first American woman to ever make the voyage into space — with the Presidential Medal of Freedom. The honor was bestowed…
The San Francisco Chronicle's Joe Garofoli spoke with Sally Ride's family and friends about how the first American woman astronaut — and, now, the first known LGBT astronaut — was a private person who wasn't in the closet as much as disinterested in making a public statement about her sexuality.
Picture, if you will, Kanye West swimming in a vault of precious stones a la Scrooge McDuck; after girlfriend Kim Kardashian's divorce from Kris Humphries is finalized, 'Ye apparently plans to propose with a one-of-a-kind ring made from his late mom Donda's personal jewelry collection. He visited a private jeweler…
Early this morning, astronaut and physicist Sally Ride passed away after a 61-year-long life of exploration, boundary breaking, and ass kicking. When she blasted into space in 1983, she became the youngest American and the first American woman to leave the earth's atmosphere, thus igniting space camp dreams in a…
One of Annie Leibovitz's Louis Vuitton ads with astronauts Sally Ride, Buzz Aldrin, and Jim Lovell is out. (Gorby was busy that weekend.) [WWD]
Naomi Campbell stalked the runway like a thoroughbred in Mumbai for a charity show. Last time Campbell blended fashion and philanthropy, the supermodel raised over $1 million for Hurricane Katrina survivors. [Daily Mail]
As you know, the Life magazine photo archive is now online. We've been showcasing images of women in different decades. Although Life was a weekly until 1972, it hung around as a monthly until 2000.
Women are having their feet surgically-altered the better to fit into high heels. And, according to one well-compensated NYC plastic surgeon, it's because of Sex And The City. [TimesOfLondon]