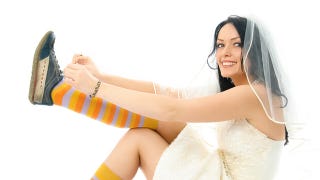 In Malaysia, Masran Abdul Rahman and his family are suing his former fiancée Norzuliyana Mat Hassan for leaving him just six hours before their wedding. Rahman says he suffered distress and embarassment when he was forced to call off the elaborate wedding for 1,200 guests. The AP notes, "His lawyer said the would-be…
Police have found a missing 13-year-old girl from Hesperia, California and say that while her parents led them to believe she had been kidnapped, evidence suggests she actually ran away to escape an arranged marriage.
• In attempts to improve German-Swiss relations, the Swiss Farmers' Union has created a calendar of half-naked farmer hunks. "We want to show Switzerland in its best light, the countryside and a bit of its culture," says photographer Tina Steinnauer. •
Flipping the stereotypes around a bit, 22 year old Kristen Georgi recently filed for divorce from her 84 year old husband, Joe Hardy, because his glamorous, globetrotting lifestyle was "a bit too fast-paced" for her.