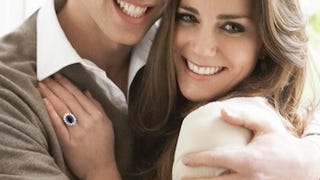 Prince William and Kate Middleton say they won't hire any household help after they get married. They're concerned living with servants would ruin the intimacy of their relationship, and presumably this will limit the tabloid reports about their bathroom habits.
Zara Phillips, Queen Elizabeth's oldest granddaughter, is engaged to rugby player Mike Tindall. Judging from the cute-yet-casual engagement photos taken outside their Gloucestershire home, there won't be any officially-licensed china.
Prince William and Kate Middleton personally approved the dove-and-ribbon motif for this line of commemorative china, which benefits the upkeep of the Royal Collection. Now go celebrate the wedding of people you've never met with a $40 pill box!
The frenzy for all things royal engagement related continues; The $620 Issa London dress Kate Middleton wore while posing for photos on Tuesday sold out "within hours of the images going live" according to a buying director at Harvey Nichols.