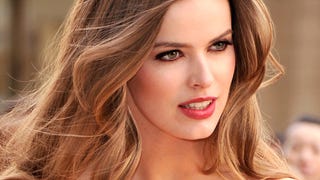 Robyn Lawley is an extremely beautiful plus-sized model (remember: a plus size model is not necessarily the same thing as a plus-size woman) who recently stood up to some horrible goblin denizens of the Internet who criticized her for not possessing a made-up body feature. Here she is in forthcoming December of …
Australian model Robyn Lawley has made a splash in the fashion world, landing front and center on countless high-profile covers and campaigns. She caused a mini-shit storm (a shit drizzle?) when her photograph was posted on a Facebook page dedicated to promoting the gloriousness of thigh gaps.
Even if you take just a quick glance at Tara Lynn, Candice Huffine and Robyn Lawley on the June issue of Vogue Italia, you can tell that these women are not the typical gazelle-slender models. Lynn is a size 16; Huffine is a 12; Lawley is a 14. Three plus-size models, on the fashiony-est fashion magazine in the world.