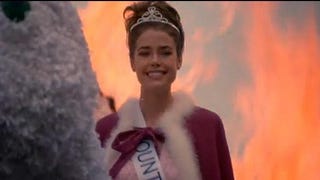 Miss Universe contestants recently posed topless, covered in body paint. Naturally, some people are quite upset. But I happen to think this is a good thing.
[Srifa, Lebanon; May 17. Image via AP]
Hours into her Miss USA tenure, Rima Fakih has her first (low-grade) scandal: a "Stripper 101" crown in college. Meanwhile, creative right-wing haters are implying, in more ways than one, that she won because of a pro-Muslim, pro-immigrant conspiracy.
Rima Fakih, the first Arab-American Miss USA, won last night after saying birth control should be covered by insurance. Asked how she felt about winning, she said, "Ask me after I've had a pizza."