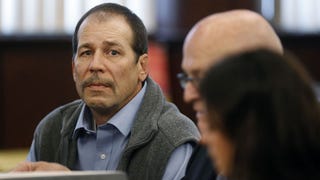 Theodore Wafer, the man who was found guilty of second-degree murder for fatally shooting Renisha McBride last November, was sentenced to a minimum of 17 years in prison on Wednesday.
There is a prevailing notion in this country that when an unarmed black person is shot by the police, there must have been a valid reason. In the spirit of fairness, it doesn't even have to be at the hands of the police. Black victims are routinely put on trial in the media with an unspoken but clear suggestion that…
The family of Renisha McBride, the black woman shot and killed by Theodore Wafer in 2013, has filed a wrongful death lawsuit against Wafer for $10 million, according to the Detroit Free Press. Wafer, convicted of second-degree murder this month, is "still shocked" by the verdict, says his lawyer.
18-year-old Michael Brown was gunned down on Saturday by a Ferguson police officer in St. Louis. Witnesses say Brown had his hands in the air as he was shot from 35 feet away.
Theodore Wafer, the man who shot Renisha McBride last year, will head to trial on July 21. The proceedings are expected to last approximately three weeks and were originally slated to begin June 2. According to the Detroit Free Press, Wafer was granted a new judge per his request in April because the previous…
Theodore Wafer is requesting a new judge for his impending June trial in connection with the fatal shooting of Renisha McBride last year. Wafer is charged with second-degree murder, manslaughter and possession of a felony firearm after he shot McBride in the face when he found her on his porch in late one night in…
On Wednesday, Theodore Wafer, the man charged with second-degree murder in the killing of Renisha McBride on November 2, went before a judge in Dearborn Heights, Michigan. And as of this morning, that judge has ruled that there's enough evidence for Wafer, who is also charged with manslaughter and possession of a…
Last Saturday morning at around 2:30am 19-year-old Renisha McBride got into a car accident in Dearborn Heights, a predominately white Detroit suburb. Because her cell phone battery was dead, she went to nearby home for assistance. That might seem like the reasonable and understandable thing to do, but it was the…