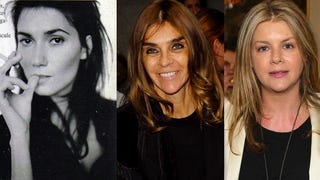 Stylist Emmanuelle Alt, Carine Roitfeld's longtime right-hand-lady, is said to be leading the field of candidates to take over as editor-in-chief, while editor/novelist Virginie Mouzat may still be under consideration. (We previously looked at both candidates in more depth.) [WWD]
It was rainy at Lincoln Center, but inside the Rebecca Taylor show, it was all sunny 70s romance. Will we be at this haute-bohemian picnic, where someone's rock star boyfriend surely whips out a guitar? No - but we wish!
"I'd like to say that these bigger girls are going to be around in a few seasons, but I'm not sure that's true. The more extreme the trend, the more quickly it passes," says casting director Natalie Joos.
Says totally important designer Alaïa, whose designs Nuclear Wintour snubbed in the Met exhibit, "she behaves like a dictator and everyone is terrified of her...but I'm not scared of her or anyone." BURN! [WWD]
It had to happen eventually. David Beckham has dipped a toe in the choppy waters of retail, becoming a Celebrity Designer. You can buy his clothes for Adidas Originals starting this fall. [WWD]
I was gonna live-blog this for ya, but that's kind of hard to do when you're in "standing seating" and sort of overwhelmed by how young the models are! I read the designer's description of "The Rebecca Taylor girl for Spring 2009" as "a bohemian world traveler...she mixes her inherited couture pieces from her French…
It's shocking, we know, but some people take Fashion Week really, really seriously. Designers shudder and quake in anticipation as the world's top "fashion journalists" pull out their best and most pretentious purple prose reviewing the Spring/Summer 2008 collections. In our next primer on what the major critics have…