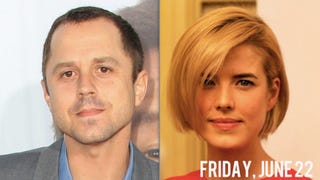 Giovanni Ribisi, Giovanni Ribisi's moustache and model Agyness Deyn have apparently been dating on the sly for months and quietly married in Los Angeles this weekend. As recently as March, Deyn told press "I'm all alone. There has been no man in my life for several months now and although it would be nice to have a…
The head designer at the Ballet Rambert has created a gown from the pages of Daphne du Maurier's classic Rebecca. It is on rather eerie display at Port Eliot, the oldest continuously inhabited house in England.
If you look at the politics section of the Washington Post's website today, you'll see some familiar names: Sarah Palin, Michelle Bachmann. An article about Hillary Clinton can be found in the Arts & Living section. It's about her hair.
Last week, in honor of the 35th anniversary of the publication of Fear of Flying and the acquisition of Erica Jong's papers by Columbia University, the author herself gave a talk about Flying's role in the feminist pantheon. Rebecca Traister of Salon thinks of Flying more as a sex book than as a feminist book (Jong on…