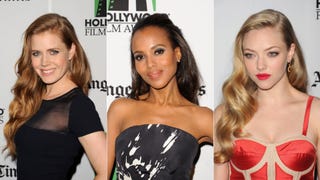 Last night at the 16th Annual Hollywood Film Awards Gala presented by The Los Angeles Times — held at The Beverly Hilton Hotel — most of the stars looked great. Glam hair, dreamy dresses. Although a few folks made some bad decisions. Hey, it's not a celebrity red carpet without some ugly ensembles! Let's take a look,…
At the premiere of new buddy movie Wild Hogs (which inexplicably took top spot at the box office this weekend), it's 53-year-old star inadvertently posed the question everyone's been asking for a few years now:
We're not sure which is sadder, the fact that Ray Liotta got booked for drink-driving yesterday evening, or the fact that he's starring with John Travolta and Tim Allen in a 'buddy movie' called Wild Hogs.