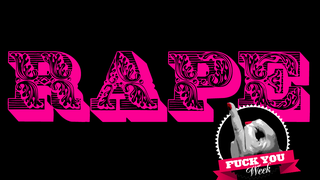 This is Fuck You Week, Jezebel's first annual week of desperate emotional cleansing and unhinged psychic purging.
"A repressed and unfeminine lump, vulgar and shallow to the core." "Just pushing for your own feminist vagina agenda regardless of the facts." "We used to confine people to sanitariums for these kinds of outbursts." These are just a few of the responses three female writers have gotten when they tried to express their…
Outside the Kentucky Senate debate last night, several male Rand Paul supporters ganged up on a MoveOn protester, tore off her wig, and stomped on her head. Surely she was asking for it by...protesting peacefully. There's (highly disturbing) video.
Normally I go to Men's Health to get my fill of terrible bro articles, but today's horrifically sexist article comes to us from another bro source: Ask Men, who present us with "Subtle Ways To Tell Her She's Getting Fat."
German fashionisto: "She's is no runway model. Heidi Klum is simply too heavy and has too big a bust. And she always grins so stupidly. That is not avant-garde - that is commercial." Me-ow! [VogueUK]
Christian Bale called an L.A. a radio station and said of his four-minute rant: "I acted like a punk… It is inexcusable… I made it ugly, and that was awful of me." [TMZ]
Christian Bale's notorious rant has placed a spotlight on a phenomenon known as the male tantrum. Emma Jacobs of the Financial Times asks: Is this any way to behave in the workplace?