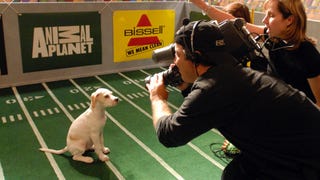 There will have been 10 — TEN — puppy bowls on Animal Planet after this year's Puppy Bowl X, a spectacle of unabashed puppy objectification, is in the books. Last year's Puppy Bowl attracted 12.4 million viewers, and proved itself to be a reliable alternative televised event for people who don't want to watch the…
Last night, in honor of this Sunday's Big Game (Puppy Bowl, duh), Conan introduced his audience to this year's cast of Puppy Conan, an all-puppy version of his late night show. Puppy Conan's guests included Puppy Pharrell, Puppy Justin Bieber and crew (complete with puppy-sized luxury rental car), and Puppy Toronto…
Congratulations, sports fans! It's the greatest day of the year and not because of some lame-ass human football game. No, it's the greatest day of the year because it's the 9th Annual Puppy Bowl on Animal Planet! Grab some brews, order some wings and get ready to watch a bunch of adorable puppies wrestle around while…
If you're of a paranoid disposition, you're probably warning yourself right now that this article runs the risk of discussing something gruesome, such as sausage made of puppies. "Oh my god," you might be thinking, "is that what they do with the Puppy Bowl puppies after the Puppy Bowl? They turn them into sausage?"…
SFist alerts us to the LIVE PUPPY CAM for Puppy Bowl IX. Not only is it adorable, it's a great way to decide the puppies to bet on.
The second greatest* day of the year has arrived, the Puppybowl IX Lineup was released! Featuring all adoptable rescue and shelter puppies, it's the cutest bunch of little homeless ragamuffins to ever saunter into your heart.
If you haven't been following Meep the Bird's tweets, you might not know what's been going on in Puppy Bowl VIII. The short answer is a lot of stuff, way too much for me to recap here. I heard the good-natured announcer call out "Aberdeen" a lot so I'm going to guess that Aberdeen had a big day. If you tuned in late…
You're looking at the future career for all those puppies who don't cut it in broadcasting when their Puppy Bowl playing days are over — they referee table games between their masters' children. It seems like a pretty sweet gig for a happy dog if it has the energy to bounce around like a motorized pogo-stick as well…
Here are some highlights from the 2010 Puppy Bowl (that would be "Puppy Bowl VI" for any readers trying to draw a parallel between the televised puppy event and America's current economic crisis) to get you thinking about this year's...whatever it is. I mean, I like puppies just as much (way more) than anyone else,…
Did you miss last night's Puppy Bowl showdown on Animal Planet? Check out our highlight reel to see all the big plays, fuzzy fumbles, and general canine cuteness you missed.
Animal Planet has revealed the starting line-up for this year's Puppy Bowl, Animal Planet's adorable alternative Super Bowl. Check out the contenders yourself, but we've already settled on Big Red, who loves the Golden Girls, for our fantasy puppy league.
I know what Animal Planet's Puppy Bowl is: a stereotypical statement about how women hate football and love puppies. The thing is, some of us do dislike football and love puppies, myself included.