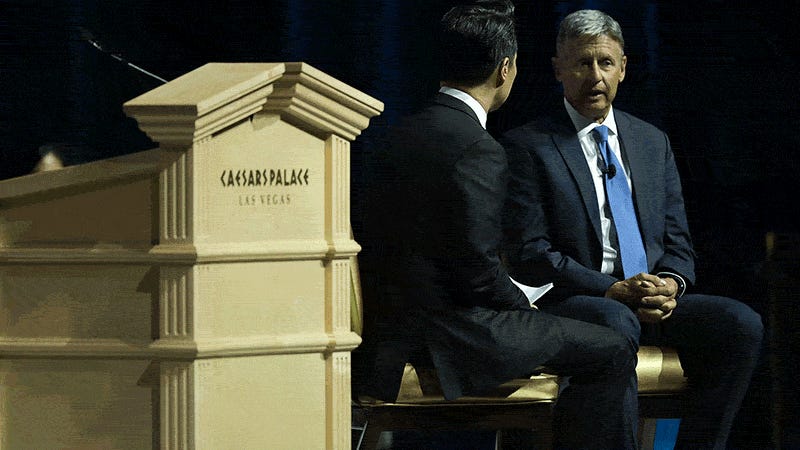 Have you heard? Gary Johnson—Libertarian third party candidate, former governor of New Mexico, avid outdoorsman—is cutting into Hillary Clinton's lead against Donald Trump, despite the fact that he will likely not make it onto the debate stage.

...if you host a poll on Facebook asking "Should Obama be killed?" not only will the freedom of speech guidelines NOT protect you, but it is sure to bring the Secret Service to your door. [Washington Post]
For the D.C. Jezebels that need a break from the Washington holiday party circuit and all those people asking "What do you do?", put down that gingerbread cookie from Bread and Chocolate, strap on those dancing shoes and join the group tomorrow night upstairs at DC9 (1940 9th Street, NW) for KIDS' "back-to-basics hip…
Get your drinking shoes on tonight if you live in Chicago or D.C., it's time for more meet-ups: The Chicago contingent will be assembling at Delilah's (2771 N. Lincoln Ave.) at 7:00 for their Oktoberfest, Harvest and Pumpkin Beer tasting. Meanwhile, the D.C. crew will be meeting at Solly's U Street Tavern (1942 11th…
It's another weekend twofer! Jezebel NYC is hosting a meet-up tonight, September 12th, from 6-9 at Borough (12 E 22nd St) for everyone to meet, greet, eat and then drink too much. The Philadelphia Jezebels — apparently the most cultured among us — are then meeting up on Saturday, September 13th, at 8 pm at the New…
Attention D.C.-based Jezebels! Megan will be hosting a commenter meet-up tonight at the Wonderland Ballroom (1101 Kenyon St, NW by the Columbia Heights Metro Station) at 6:30 until drunkenness. Come join D.C.'s unofficial curators of the Den of Iniquity, Vagina Salon for drinks and beaver-related hilarity. If you want…
Attention New York City Jezebels! There is a meet-up tonight in Brooklyn; go meet, mingle, and get your party on. It is taking place at 10 p.m. at a bar called Ceol at 191 Smith street in the Boreum Hill/Cobble Hill area. Have fun!