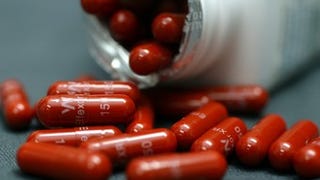 In the latest issue of the NYT Magazine, Ethan Watters points out that Americans feel we wrote the book on mental illness. But conceptions of psychological suffering vary greatly across cultures — and ours isn't necessarily the best one.
A new study has found that the benefits of antidepressants increase the more depressed a patient is, and that for those with mild symptoms, the drugs may be no better than a placebo.
While it's common knowledge that anti-depressants can cause sexual side effects, a new theory suggests they may also suppress feelings of love and romance.
Elizabeth Wurtzel, author, rabblerouser, and law school student, has given an audio interview in which she talks about 9/11 ("I did think Iraq had attacked us"), substance use (she drinks wine but is off the Ritalin), television shows (Lost), books (If I Did It), the Hollywood studio system, and of course, Hillary…
"There were no red flags. He was an outstanding student. He was someone who was revered by the faculty and students alike," the Northern Illinois University police chief is saying of the 27-year-old grad student Stephen Kazmierczak, who yesterday walked into a packed geology class, swung open a guitar case full of…
I have never been an exceedingly happy person. For those people who (offline) found me chipper or perky, well, I'm sorry, but I was probably faking it. On the other hand, I've studied two instruments, 3 languages, 5 or 6 different types of dance and I left a promising mainstream job to write for a living. The times in…
A story in yesterday's Times about gratuitously hot Prozac Nation author Elizabeth Wurtzel professed to be about how she's in law school now, but obviously the big news is that she is forty. Forty. Which makes her not only old, but older than 90% of her classmates at law school, so instead of being the hot ex-rock…