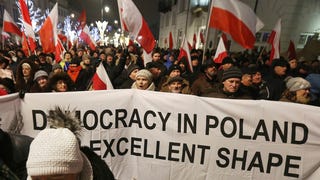 The Washington Post published a chilling dispatch on Monday from Poland's nationalist takeover, one year in. As Warsaw simmers with protests over opposition accusations that the ruling (and ironically named) Law and Justice party illegally passed next year's budget by moving the vote outside of the main chamber of…
Outside the Kentucky Senate debate last night, several male Rand Paul supporters ganged up on a MoveOn protester, tore off her wig, and stomped on her head. Surely she was asking for it by...protesting peacefully. There's (highly disturbing) video.
As Sarah Palin's "bus" tour rolls on, journalists are beginning to identify her as the leader of a new kind of populism. But this movement really just enshrines another elite.
"I wish they could run together...they'd be like one of those old 1970s cop shows. The crusty old seen-it-all guy who goes by his gut, partnered with the brilliant rookie who's got courage to match his brains." That's an undecided voter, in a piece on the "dude vote." [Salon]