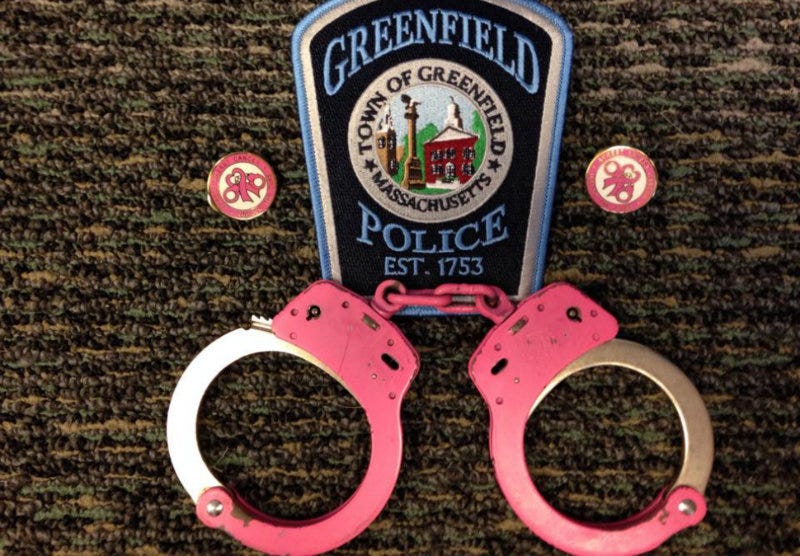 The pinkwashing Olympics have their new champion: the police department of Greenfield, Massachusetts announced on Facebook that for the month of October, they'll be using pink handcuffs. Officers will also sport pins reading "Arrest Breast Cancer." Because there's no problem you can't solve that way.
We're facing another long month of Breast Cancer Awareness ™, in which companies show their sensitivity to the cause of breast health by peddling pink junk which, in some causes, has ingredients linked to breast cancer, or that haven't been extensively tested for safety. This year, according to the advocacy group…
"I wanna talk to all the ladies in the world a-bout! Breast! Can-cer!" begins perhaps the most downer upbeat club jam of all time.
The NFL's 'A Crucial Catch,' in addition to being an eyesore, is a craven PR campaign designed to sell tickets and build goodwill among female fans (reminder: only 8% of the money it raises actually goes to breast cancer research). But perhaps its worst sin is that the information it's distributing to millions of…
Andrea Tantaros at Fox News' The Five was not pleased about the NFL's October Breast Cancer Awareness Campaign (nevermind that it ended over a month ago) — not because it was a total sham, but because it made football too girly.
Breast Cancer®, the America's Sweetheart of deadly, disfiguring diseases that it is, inspires a deluge of pink junk for sale every October. Some of that pink junk, in addition to being ugly, cloying, and infantilizing, contains chemicals that have been linked to boobs full of tumors. No Awareness™ like the Awareness™…
With all this shutdown hulabaloo, I almost forgot that October marks the annual pink barf tornado otherwise known as Breast Cancer Awareness month, a special time when corporations exploit our feelings of helplessness in the face of life's senseless brutality by directing people to Fight Cancer through the purchase of…
Men notice boobs no matter where they are — under your shirt, in the written word, and, apparently, on my Facebook wall. All I had to do was post link with the headline-"No More 'Save the Ta-Tas,' Please"-and before long, a couple of put-upon guys from my Midwestern roots swooped onto my Facebook page to tell me to…
Have you noticed that during the month of October, the NFL suddenly becomes intensely concerned with making sure you're aware of breast cancer? Pink jerseys! Huge Ass Pink Ribbons at midfield! Pink motherfucking cleats! Fans interested in aware-ing on their own can even click on over to the NFL's store and purchase…
In the last three weeks, the reputation of Susan G. Komen for the Cure has been threatened by a scandal that has uncovered some uncomfortable truths about the behind the scenes in the world of Professional Breast Cancer Awareness. Although the organization has given the media the "move along, nothing to see here"…
KFC launched their new pink bucket campaign yesterday, which they hope will result in the largest ever donation to breast cancer research. Monday also saw the debut of the "Double Down." How are these things related? Marketing.