Broadway legend (and a New Yorker I'd be terrified to encounter in public) Patti LuPone appeared on Watch What Happens Live! Tuesday night, and fielded a question about Madonna's, uh, interpretation, of her iconic role in Andrew Lloyd Weber's Evita.
When Ludwig van Beethoven completed his Fifth Symphony, he turned to his dear friend at the time, Stephan von Breuning, shrugged, and said, "Who gon' check me, boo?" Thus the legend of "Who gon' check me, boo?" began. That story is completely fabricated, but there are at least two people in the world who would believe…
Val Kilmer, the actor/visual artist for whom Michael Douglas does not speak, spent the weekend proving he loves and idolizes actress Cate Blanchett more than I do (which I honestly didn't think was possible). From Friday afternoon to Sunday night, Kilmer sent 10 tweets (including one retweet) about Blanchett,…
Amanda Bynes spent a week at a fitness camp, where she paid several thousand dollars to lose five pounds. E! reports that Bynes was dropped off at camp by her parents and used the week there to give herself "a lifestyle makeover." It may be easy to snark on the fact that the article focuses mostly Bynes' quest to lose…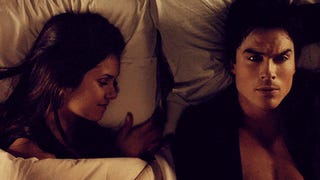 After three years of dating, Vampire Diaries' onscreen and real-life couple Nina Dobrev and Ian Somerhalder have broken up. But TV's low-key equivalent of K-Stew and R-Patz will stay civil on the show because — quoth a source — they're "consummate professionals," and "will continue to work together and remain best…
A lot has changed for the ladies between last season and last night's premiere. Nene has a new nose, marital problems, and a feud with Dwight. But most notably, Kim has come out (via a tabloid) as bisexual.