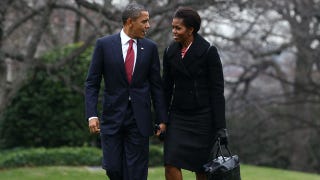 In an interview today, Barbara Walters asked Michelle Obama who she'd choose to come back as when she dies. Mrs. Obama said Bo, the famous first dog, because, "He's got a great life." Leaving aside the obvious complication that Bo will probably die before she does, that's a pretty solid answer—and probably the only…
When Tiger and Elin broke up, both wanted the dogs. For stars and regular Joes alike, pet custody-battles have gotten contentious and totally ridiculous. Indeed, "animal law" is a booming new field, with pet custody cases up 23%.
"When I go through and mark up a menu, I'm not doing it to humiliate the person... I just want them to know so they don't look uneducated." Is this persnickety dame a recession casualty?
Bad news for all you krazy kat ladiez: The Daily Mail has two different stories about the "problem" with pets. In an online survey, one in four men reveal they are turned off by partners who pamper their pets. A quarter of men claim they will not date a woman with two or more cats. And one in four pet owners would…