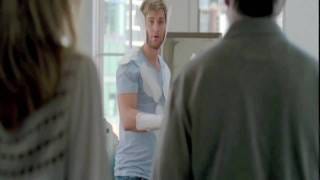 Although handsome men peddling maxi pads isn't exactly new and groundbreaking advertising, this might be the first ad featuring a Maxi Pad Mega Man, which is the only iteration of Mega Man capable of defeating the red-helmeted Proto Man. Hooray for Nintendo and period humor!
Modern reproductive medicine has freed women to have lots of hot sex without worrying about babies, but it has obscured their sense of their own fertility. To which some of us would respond: So freaking what? Not Brigitte Coremans.
Since 1976's Carrie—the first film to graphically depict menstruation—periods have been portrayed in movies as horrific, disgusting, annoying, and occasionally, celebratory. Here, we've collected scenes from over 25 movies that feature the cinematic history of "the curse."
Will Arnett was on Late Night last night, where he did a dramatic reading from a passage of Judy Blume's coming-of-age classic Are You There God? It's Me, Margaret. Praying for boobs sounds scarier when he does it.
Despite our best attempts to appear to be strictly Modern Women, we are suckers for a good period piece. The clothes, the wigs, the accents... the James McEvoys. And if we didn't have a company-wide party to attend tonight, we'd be at a mid-evening screening of The Duchess, which follows the life of the Duchess of…