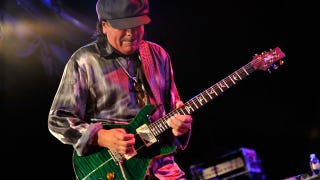 In April, the Recording Academy announced that they were "consolidating" dozens of awards categories, changing some eligibility requirements and rewriting the rule on how members vote. Next year, the Grammy awards will have 31 fewer categories. Sounds better, more streamlined. So why is a coalition of musicians…
"I'm a pretty outspoken princess, right?" recalled Carrie Fisher at her The New York Times' panel yesterday. "But you take off my clothes, you slam a metal bikini on me, and suddenly I don't know what to say. I'm mute."
Last night on Letterman Carrie Fisher discussed her divorce from Paul Simon, saying it's "trippy" to "turn on the radio and hear yourself complained about in song." She also doesn't recommend Googling yourself "without lubricant." Clip at left.
Celebrity memoirs are a strange breed. As a rule they're low on writing quality and high on self pity. But I had high hopes for Carrie Fisher's new memoir out December 2nd, Wishful Drinking, which is based on her one-woman show of the same name. Fisher, unlike most celebrities (especially ones spawned from other…