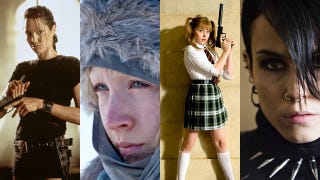 Action heroines are rare creatures. The earliest were female versions of pre-existing male heros, like Wonder Woman, BatGirl and SuperGirl. Some more recent heroines have their roots in fantasy or sci-fi, like Buffy The Vampire Slayer, Selene from Underworld, or Alice from Resident Evil. But while there are plenty of …
There's a lot more to Pam Grier than stories of cocaine vaginas. As an interview with the Times today confirms, Grier's emerged from a life "more interesting and dangerous than some of the movies I've done" a strong, resilient woman.
The joke on The View this morning is that the black women were taking over, including guest-host Gabby Sidibe and guest Pam Grier. And, Elisabeth Hasselbeck helpfully pointed out, in the summer she can get tan!
In her memoir out this week, actress Pam Grier says she and Richard Pryor broke up in part because his cocaine use had led to a dangerous buildup of the drug in her vagina. Is that even possible?
Does Jay-Z reference Anna Wintour in his song "Empire State of Mind"? The line in question is: "caught up in the in crowd/now you're in-style/and in the winter gets cold en vogue with your skin out." [Fashion Week Daily]
A dear friend who knows I adore this kind of crap gave me an issue of a magazine called Motion Picture, from February 1977. This publication cost 75¢ at the time, but was worth every penny! Because inside was the kind of scandalous stuff — right out of celebrities' mouths — that is truly priceless. The subject: Sex.…