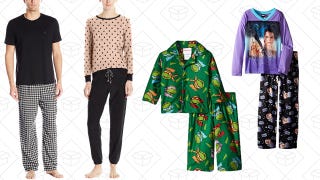 While everyone and their mothers were going off about Beyoncé and Rihanna last night, the true winner of the Met Gala slipped under the radar in a pair of blue silk pajamas that were both attractive and functional, allowing her to walk, unencumbered, through the crowds of people with miles of cloth around their waists.
During a hearing with a judge Bethenny Frankel attended Thursday over divvying up her money with ex-husband Jason Hoppy, said judge reportedly told Frankel "No more pajamas!" in response to an Instagram photo the former talk show host recently shared of her in her daughter's sleep garb.
Nick Cannon, that one dude that did a bunch of funny TV stuff and movie stuff but most importantly is married to Mariah Carey is releasing a new album White People Party Music, and uh ooohhhh, one of the tracks was leaked. It's called "Pajama Pants" and it's apparently about getting "it poppin' in them pajama…
It often seems like the biggest ambition of most Americans is to be 110% comfortable during every moment of their existence, especially when it comes to their fashion choices. And it looks like our nation's youth are doing their very best to blaze new trails in this quest for constant comfort. According to the Wall…
Shreveport is a city in the Northwest corner of Louisiana you're most likely to recognize as the vague urban setting of a two-star movie because it's the place Hollywood filmmakers go to make par, sub-par, and crappy movies, the most infamously crappy of which was the screen adaptation of Tucker Max's I Hope They…
Before I proceed to rip apart what's got to be the worst clothing item I've seen since the Forever Lazy, I have an admission to make: I love jeggings. I think they're comfortable and I wear them nearly every day. (I would never wear them in the place of jeans, or pretend they're not what they are.) That said, what in…
What, just two bachelors in their pajamas, riding around on an extremely phallic log with faceless centaurs in the background. Nothing homoerotic going on here, no sir!