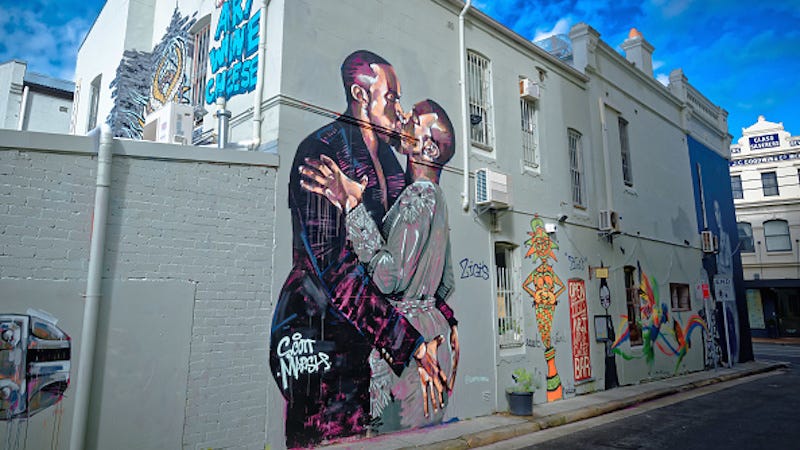 Australian artist Scott Marsh is the man responsible for the prodigious mural depicting Kanye West sucking face with himself. And now he is $100,000 richer after selling a print of the original painting for that same price.
When you own an extensive art collection—as does Queen Elizabeth II—you'll occasionally need to send a couple of pieces out for some restoration work. Which is how conservators uncovered a man popping a squat and taking a poop in the corner of a 17th century Dutch painting that once belonged to George IV.
This is mos def a real deal, so if you're in the market for a painting worth $700,000, but want it at the bargain price of $5,000 — holler at your boy!:
There are some people, ahem, Steve Martin, who pay handsome sums of money for handsome forgeries of subjectively handsome works of art, and then there are a rare bunch of thrifty art collectors who manage to find genuine art buried under piles of crap at flea markets. This is, in fact, the very stroke of luck that…
Loving the work of Heather Mattoon, as seen on Glamour's Slaves to Fashion site. Each kitty has a personaity: Brewster, on the left, doesn't like walking to school in the snow. Henry, in the middle, likes to hang out with the older kids to feel cool. Vincent, on the right, plays Football — what you Americans call…
Experts have discovered tiny symbols in Mona Lisa's eyes, sending Da Vinci Code fans into a tizzy. Under high magnification, "LV" is visible in the right eye, and the letters "C" and "E" or "B" are painted in the left.
An Etsy user posted a request for a painting of "Lady Gaga in one of her bizarre outfits hunched over a unicorn carcass blood around her mouth" in the Alchemy section. And then artist Rose Briccetti made it happen.
American artist Alex Katz has unveiled his most recent portrait, which is titled simply "Anna" and will adorn the walls at the National Portrait Gallery in London. But what does the fashion behemoth think about her likeness?
This mural is a few blocks from where I live, in a Latino neighborhood known as Loisaida — where Barack Obama is painted to look like a young Tito Puente. The President is all things to all people!