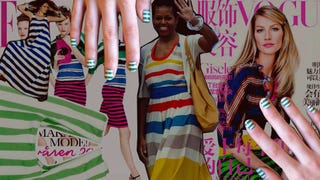 Brightly colored stripes were all over the spring collections — Jil Sander, Prada, Marc Jacobs, Fendi, and Céline all played with parallel lines — but a dress or a top by any of the aforementioned isn't exactly within my freelance writer's budget. So...I set myself the challenge of incorporating stripes into my look…
For the first time, Gemma Ward has publicly confirmed that she had a relationship with Heath Ledger. "I have taken a break from the media spotlight for the past few years and it was something spurred by Heath's death."
According to reports in the Arab press, Naomi Campbell is going to convert to Russian Orthodox faith so she can marry her scary-rich oligarch boyfriend, Vladimir Doronin, in a massive ceremony at the Temple of Luxor on the Nile! [P6]
Miranda Kerr nabbed the September Vogue Italia cover, which is her first. Shot by Steven Meisel, the cover and its accompanying editorial is in 3D. Kerr's Yorkie puppy, Frankie, shares the honors. Who can argue with a puppy? [Models.com]
Tim Burton's Alice in Wonderland isn't even released until tomorrow, but you can already dress in, adorn yourself with, carry, make yourself up with, loll around in bed wearing, and get your nails did with products tied to the movie.