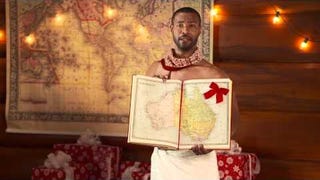 What's even better than a shirtless Isaiah Mustafa hawking for Old Spice? A shirtless Isaiah Mustafa hawking for Old Spice and wearing a scarf! Here are the latest batch of holiday-themed commercial spots, to which I can only respond by asking, "How the heck did Old Spice know exactly what I wanted for the holidays?"
First Old Spice toyed with us by suggesting Fabio might be the new Old Spice Guy, and now the brand has debuted ads featuring a jet pilot/billionaire and a "well-decorated sea captain who battles monsters on a large nautical vessel." But if you spot these ads, there's no need to be alarmed; the company promises it…
Reader Stephanie V. let us know about Brut's new feature on their website, Some Men Just Need to be Slapped. The…game (?) presents Man in a Towel, clearly meant as a parody of the Old Spice character:
Alaska Senate candidate Joe Miller mocks incumbent Lisa Murkowski, who lost in the primary, in what's possibly the least embarrassing Old Spice ad parody ever. Kudos to Joe for resisting the urge to ride a staffer dressed as a cow.
A new series of Canadian Stayfree ads features different "ideal" boyfriends discussing feminine hygiene. But, while Isaiah Mustafa's ads were charming and original, watching shirtless dudes test out maxi pads is just uncomfortable.
With this poorly-executed ad, Daniel Freilich perhaps kills both the Old Spice Guy meme and his hopes of unseating Vermont Senator Patrick Leahy. All we learn is that Freilich litters and isn't above riding a staffer wearing a cow costume.
Well, we all thought it seemed kind of strange when reports came out that the Old Spice campaign corresponded with a drop in sales. Turns out, we should have had more faith in Isaiah Mustafa!
Expect Old Spice Guy Isaiah Mustafa on a show! Casting EVP Grace Wu says NBC "felt he was a piece of talent worth developing… He's an attractive guy who's just as funny and charming." To which we reply: Duh. [CNN]