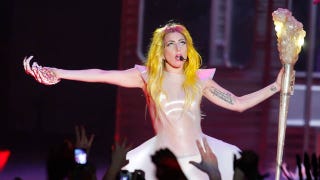 During a Sirius radio interview, Lady Gaga declared, "I'm on the drunk diet ... I like to drink whiskey and stuff while I'm working ... But the deal is, I've got to work out every day, and I work out hung over if I'm hung over." Hmm... surely it's just a coincidence that her boyfriend Luc Carl will soon be promoting…
Attention all high school Lady Gaga fans: Your college search is over. At Emerson College all cliques, including the cheerleaders, the baseball team, and the college Quidditch players, are united in their love of large-scale Gaga lip dubs.
Carla: A Secret Life, yet another Carla Bruni tell-all book, alleges that she avoids charity work, held up filming on Woody Allen's Midnight in Paris, and had three former lovers as houseguests when Nicolas Sarkozy first visited her Mediterranean villa.