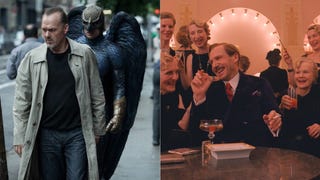 With Thursday morning brought the Oscar nominations, and though it's gotten huge praise, Selma received few nominations, and Ava DuVernay did not become the first black woman to be nominated for best director.
Oscar nominations were announced early Thursday morning and it looks like American Hustle and Gravity have a good chance of winning big: they were both nominated for the most awards, a full 10. Following were 12 Years a Slave with nine nominations, while Dallas Buyers Club, Captain Phillips and Nebraska all nabbed…
The complete list of Emmy nominations has been posted and like last year, the awards prove that if you're an actress over 40 looking for a meaty dramatic role, you'll have better luck on the small screen.
The nominations for the 2009 SAG Awards were announced this morning — find out who got nominated, who got snubbed and how they differed from the Golden Globe noms, after the jump.
Well, the 2009 Golden Globes nominees were announced this morning, so it's time for a new edition Hookers, Victims & Doormats*. (With the hope that you will weigh in!) The award-worthy roles, after the jump.
The Primetime Emmy nominations came out this morning, so we decided to round up the actresses nominated to get a better sense of what is being offered to - and celebrated - with regards to female performers in Hollywood. There were some surprises (did you know that Pushing Daisies was still on the air?), some…