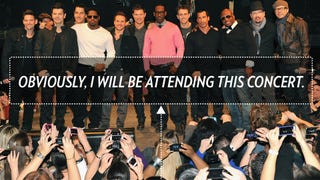 In case you haven't heard (because you've been doing some kind of David Blaine situation where you live inside a sealed barrel for one year and eat your own pee) New Kids on the Block is teaming up with Boyz II Men and 98 Degrees for a 2013 stadium-sweeping super-tour called THE PACKAGE. Ahem. Now, if you know…
Backstreet's back, alright? You've been hangin' tough, but now you're like, "I want it that way."
More LaBeoufWatch: Now you can own a piece of debris from his headline-making car crash! Like all magical things, this piece of celebrity memorabilia is for sale on eBay (current bid $158.00, there is no God). • Hm, we wonder how the Hiltons feel about the $4,600 they donated to John McCain's campaign last year being…
Is Michael Jackson making a comeback with New Kids On The Block? Apparently he's in secret talks to link up with the group, and hopefully it's not just because they have the word "kids" in their name. [Mirror]
We were "purchased" by Conde Nast...not. But you guys got your panties in some serious bunches about it.