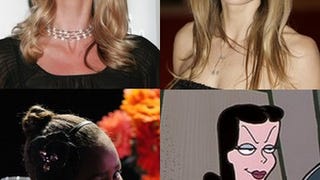 Not all Natashas are Pottsylvanian spies — but just to be safe, you might not want to turn your back on them.
David Carradine's death is now being described as "accidental." He was found naked, hanging by a rope in a closet of his hotel room in Thailand, where he was shooting the movie Stretch. [Daily Mail]
Mel Gibson "completely lost it" this weekend, according to a fellow churchgoer, who said he stood up in front of the congregation and "paced back and forth, furiously telling the congregation that he would not stand by and be judged and scrutinized."
Yesterday film and television actors alike turned out at the Costume Designers Guild 10th Annual Awards in Beverly Hills to pay homage to the people who sew their pockets shut: costume designers. And on the whole, the female stars in attendance looked good! While Gabrielle Anwar — don't pretend you don't remember Wild…