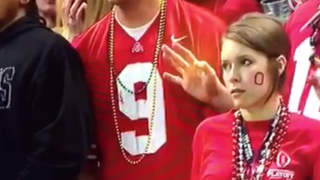 Ohio State and Alabama played a legendary New Year's Day game, in which OSU trounced Alabama in a 42-35 upset, carrying the Buckeyes to the championships or whatever. That's terrific news for OSU fans—except, perhaps, this woman, whose presence was caught on television and who may have just been caught creepin' on…
The Paradiso Festival — which happened over the weekend in George, Washington — featured electronic sensations like Tiësto and Adventure Club. But apparently a bad batch of drugs also made an appearance at the two-day rumpus, since 100 people overdosed and one person died.
We know that it's the season of prints, plaids and polka dots, but Heather Locklear and Molly Sims could do with a reminder that a little goes a long way when it comes to these potent fashion statements. Print halter dress, yes. Print halter with zebra bag, nish nish. Same goes for Molly's mad about dots moment.
Allure's entrepreneurial assistant beauty editor Molly Friedman got the ax for selling freebie beauty products on ebay. Having only been with Conde Nast for a year, the editorial assistant who'd recently been promoted to assistant editor, must not have gotten proper training on how to make extra cash from all that…