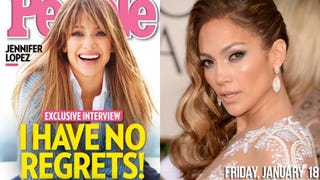 Despite the claim on this week's People magazine cover, Jennifer Lopez DOES have one regret: Camp J. Lo is intensely unhappy with the cover photo, accompanying an interview with the star that is timed precisely to upstage Mariah Carey's judging stint on American Idol. Unfortunately, the plan backfired, as Lopez…
While picking up Michael Jackson from the hospital, his driver sideswiped an ambulance. Police say the suspect was driving "a dark colored SUV" that was "being followed by a group of paparazzi." Sounds like MJ!
Michael J. Fox was on Oprah to promote his book Always Looking Up, which chronicles his struggle with Parkinson's. His symptoms are much more pronounced now, but he's maintained optimism and a sense of humor.
Last night in New York, the Rock and Roll Hall of Fame inducted its latest members — and Madonna officially became a legend, bitches! But some of our other all-time favorite musicians were there last night, as both honorees and performers: Iggy Pop, Patti LaBelle, Leonard Cohen, John Mellencamp, Lou Reed, Joan Jett,…