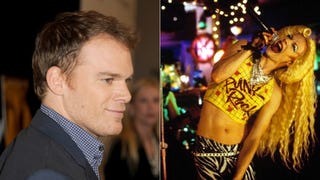 Broadway's production of Hedwig and the Angry Inch will take a surprising turn when actor Andrew Rannells finishes his run as Hedwig on October 12th. The next performer to pull the wig down from the shelf is none other than Dexter's Michael C. Hall. We know he can sing, but can he do it in heels?
Our Lady of the Gaga's chart-topping but inscrutable hit Judas is a total ripoff of a 1999 song by a singer named Rebecca F. At least that's what Ms. F claims. If you listen to both songs one right after the other, I guess that sound sort of similar, in the same way that every pop song written and sung in the same key…
Marc Jacobs and Lorenzo Martone? Officially splitsville. Tweeted Martone, "thanks for t notes. yes, i saw t press today. We are not together, haven't been in 2 months. And we will not comment on it. Sorry. We r fine. [Gawker]
[New York, April 19. Image via INF]
Dexter star Michael C. Hall has announced that he has been battling cancer, but the treatment is finished and he is in remission.