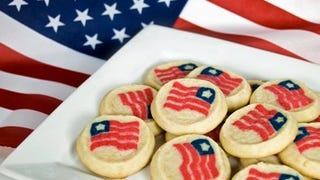 Sarah Palin and Glenn Beck are positioning themselves against the anti-junk-food zealotry of people like MeMe Roth. Does that mean every time I eat a cookie I'm supporting the Tea Party?
MeMe Roth, the misguided anti-obesity crusader has found a new vehicle to rack up television appearances - defending Southwest Airlines for booting Kevin Smith off a plane.
"I am a fattist," writes Amanda Platell in the Daily Mail. "I find obese people unappealing in almost every regard. They are physically unattractive, they lead unhealthy lives, they take up too much space on public transport, and..."
Stuart Varney had "anti-obesity advocate" MeMe Roth on today to talk about Northwest Airlines' flight attendants' fight to get uniforms larger than a size 18. And then he did what every sane person longs to do: he publicly shamed her.
We told Tyra yet again that she is no Oprah Winfrey. Learn it, live it, love it, Ty Ty. There is only one Winfrey.