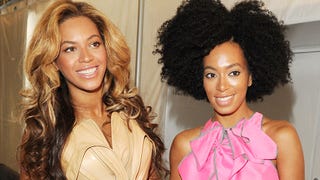 Neither Beyoncé or Solange showed up at Matthew Knowles' wedding to their new Stepmomcé Gena Avery in Houston, Texas. " "Unfortunately, Beyonce and Solange had previous engagements which made it impossible for them to attend," said the newly-wedded Knowles. There should be a reality show in which family therapists…
Blake Fielder-Civil says he and ex-wife of seven months Amy Winehouse are planning to remarry. "Amy's wearing the Tiffany ring I bought for her three years ago, again. We've been meeting up and talking about the old times," he says.
In case you didn't know: Beyoncé's mom, Tina Knowles, is divorcing Matthew Knowles because a woman named Alexsandra Wright says he's the father of her soon-to-be-born daughter.
Jon Gosselin's having the worst week ever. Earlier, a judge ended his reality TV career and in his divorce from Kate Gosselin today, she got the house and most of the money, while he'll be making huge child support payments.
Late last night, TMZ published a report claiming that Maya Angelou had been taken to the hospital. However, a CNN news editor,Saeed Ahmed, posted on his Twitter page that Angelou's literary agent says the hospital rumors are false. [DetroitFreePress]
Back in July, Solange Knowles chopped her hair off; The Daily Fail accused her of "doing a Britney" and gossip sites called her "insane." Recently-revived Honey magazine has an interview and photo shoot with the singer, who explains: