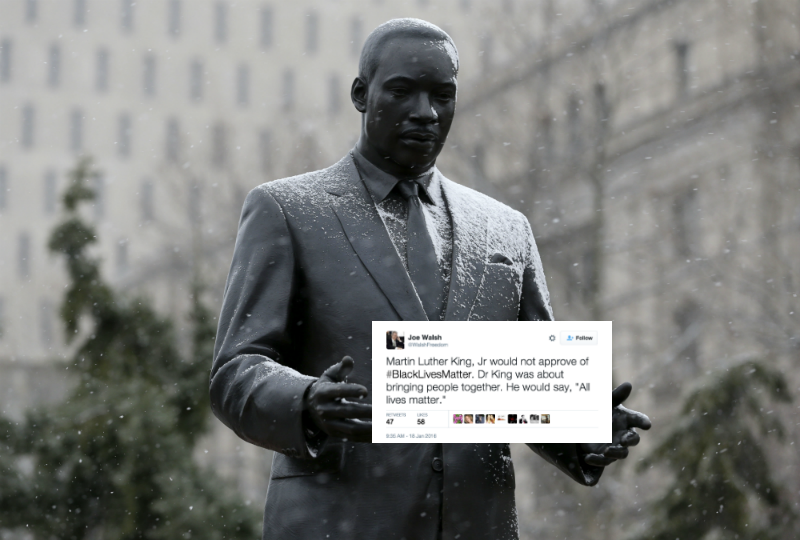 Happy Martin Luther King, Jr. day! This is a wonderful occasion to reflect on the subversive legacy of a man who gave his life to bend the arc of the moral universe faster; it is a day of service, and there's no public service quite like showing your ass. To wit, here's Joe Walsh—failed Illinois politician and former…
On Friday, South Carolina Senator and Rev. Clementa Pinckney was memorialized in a packed auditorium at the College Of Charleston. As his wife and two young daughters sat and suffered what must be the worst moment of their short lives, President Obama delivered Pinckney's eulogy with fervor and deliberation. It was…
Saturday marked the 50th anniversary of Selma's "Bloody Sunday" where Dr. Martin Luther King Jr. and civil rights activists like Rep. John Lewis marched over the town's bridge and were beaten by authorities. Fox News could've just acknowledge their sacrifices but, as The Daily Show reports, they found a way to…
Solange, who continues to be the dopest mom on the planet, posted a video of her ten-year-old son Juelz reciting a Martin Luther King Jr quote, and the result is both poignant and adorable.
Amid nationwide protests against police brutality and the failed indictments of Officers Darren Wilson and Daniel Pantaleo, the oldest black sororities Alpha Kappa Alpha and Delta Sigma Theta are instructing their members not to wear their Greek letters while marching. The directive is pissing off some members and…
Here we go again. Tau Kappa Epsilon, a fraternity at Arizona State University was suspended this week after throwing (and I can't believe I'm actually writing this) a particularly offensive Martin Luther King, Jr. Day party, in which participants dressed in basketball jerseys, flashed gang signs and drank from…
Do you have a dream that one day you will be able to party at the open champagne bar at Ghostbar in Las Vegas? Then great news—SPYONVegas has you covered!
Chances are you've been plagued with a feeling that you forgot something ever since last week (check your bag: wallet, phone, keys — they're all there), but let me put your mind at ease. You haven't forgotten anything at all. What it is that's missing from your life — what it is that's missing from all of our lives,…
If you're ready to cry into your evening bowl of ice cream bon bons, grab all the Kleenex ever made, and get into this Anti-Defamation League video. It imagines a world that still has Martin Luther King, Anne Frank, Matthew Shepard, and many other wonderful souls because it's a world without hate crimes. I'm…
Dr. Willie J. Parker has been an outspoken advocate for access to abortion services and is also an abortion provider himself in Washington, DC. In fact, he's one of the few doctors in the country who will perform late-term abortions. He is also one of many people who is opposed to Congress's awful plan to ban…
Fox News is commemorating this Martin Luther King, Jr day by inviting his niece, Dr. Alveda King, to come and speak about his legacy. He was a conservative, she explained, who hated abortion. Except that isn't even close to true, not even the tiniest bit. Leave it to Fox News to wrap a crap sandwich in a lie and call…
The McCain strategist who thought it was a brilliant idea to have him give a speech at the Lorraine Motel on the anniversary of Dr. Martin Luther King's assassination to apologize for having voted against MLK Day should probably not keep his job. [CBS News]