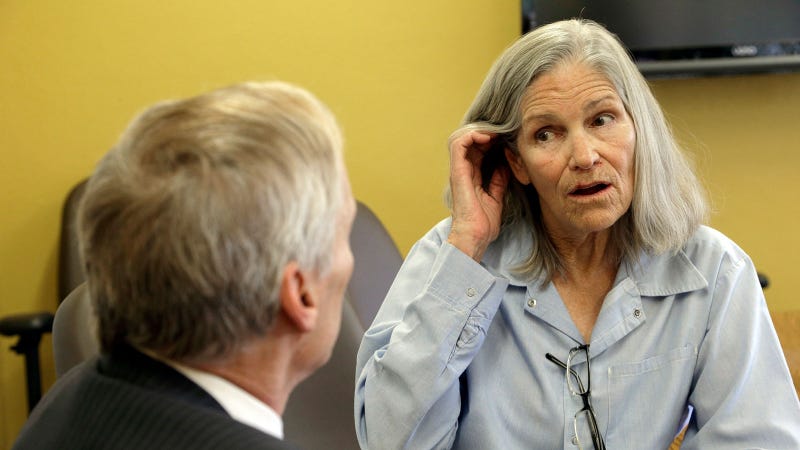 Leslie van Houten has been in prison since being convicted of murder in 1971 alongside several other followers of Charles Manson. Van Houten, in particular, was responsible for stabbing Rosemary LaBianca (along with Patricia Krenwinkel) in the murders that occurred the night after Sharon Tate and some friends of hers…
Cult leader and convicted murderer Charles Manson is back home behind bars after he was hospitalized with a "serious medical issue," the Los Angeles Times reports.

A California judge has decided to uphold Governor Jerry Brown's reversal of the state parole board's recommendation that infamous Manson family murderer Leslie Van Houten be granted parole. Which is a convoluted way of saying: Van Houten ain't getting out of prison anytime soon.

For a minute there, it looked as though Leslie Van Houten, one of the Manson Family's most involved members, was actually on the road to escaping the life sentence she was serving for the murder of Leno and Rosemary LaBianca back in 1969. That road, however, hit a block on Friday thanks to California Governor Jerry…
I first saw previews of Manson's Lost Girls during Christmas while watching another Lifetime movie starring Ashanti as an evil department store manager; laughably, the vintage effects made it look as if the scenes had been run through at least three different Instagram filters. At the same time, it was exciting. How…
This week marks the 45th anniversary of the infamous Tate-LaBianca murders committed by the Manson Family. One of the killers, Patricia Krenwinkel, is now the longest-serving woman in the California prison system. Speaking for the first time on-camera in 20 years, she takes full responsibility for her crimes.
In the docu-drama Manson, filmed for the History Chanel, onetime Manson Family member—and star witness for the prosecution in the Tate-LaBianca trial—Linda Kasabian opened up in full detail for the first time about her involvement in the murders.
A new exhibit, "ICON: Life Style Love Sharon Tate," presents the actress, murdered 40 years ago by the Manson family, as "a style icon, not a tragic headline," says the curator. [LAT]
One of Charles Manson's most loyal followers, Lynette "Squeaky" Fromme, 60, is set to be released from prison on August 16, after serving 34 years of a life sentence for pointing a gun at then-President Ford in 1975.