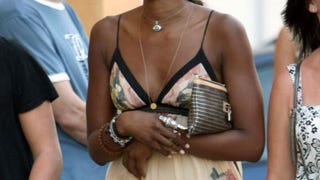 Before testifying at Charles Taylor's trial, Naomi Campbell has demanded accommodations normally extended to victims of atrocities. She wants the media to not film or photograph her, and she wants a lawyer to speak for her on the stand.
And like so many dreams of prior generations, for bloggers of today, working in one's underwear is no mere dream, but a reality. Okay, maybe not the girdle part. But we could! [Vintage_Ads]
It's like David Lynch meets Stanley Kubrick meets Mad Men meets the "intimates" department at Penney's, and then they all got drunk. [Vintage_Ads]
Yesterday, we looked at editorial pages from the May 1986 issue of Elle magazine and compared them to the May 2010 issue. Today: Big hair, tan skin, turquoise eyeshadow and lots of lady-cigarettes: Let's compare advertising pages, then and now.
The hair bow, the bra, the stick… lots of sharp ways to "poke her face." [Vintage Ads]
Sunday night's episode of Mad Men tackled the subject of societal expectations and perceptions of women — image (sex appeal) vs. purpose (caretaking) — when Sterling Cooper was told to rev up its Playtex bra campaign to compete with the much sexier ads run by Maidenform. The boys club at the agency decided that women…
Designer John Varvatos has bought the space formerly occupied by rock club CBGB's to open a new store. He's the one who designs clothes for Converse, which is that super-hip iconoclastic footwear brand owned by Nike, and... Move to North Korea if you hate capitalism so much! [Fashion Week Daily]