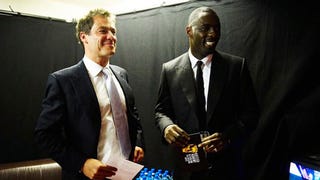 Dominic West is just as curious about Idris Elba's maybe it is, maybe it isn't penis photo as we are. He even talked about it at great length (heh … ) in an interview. Of course Elba says the bump in the photo is just a microphone cord. OK, Idris.
Idris Elba is looking goooooood on the October cover of GQ, and inside, he talks about the incident in which he fell in love with a woman in Florida, she became pregnant and they had a child, and he was thrilled to have a son… Until a paternity test revealed Elba was not the father.
Oh, man. Okay. In case you're not caught up (I wasn't), this lady named Ellen married Robert Kardashian two months before he died, and then the Kardashian kids sued her for trying to publish all of his secret diaries for tabloid megabucks, and now SHE'S suing them BACK for being wicked lying fakers! And then also Kim…
Luther's back and he's got some choice words for America. Also, he's pretty adorable — I love a feisty man. And apparently President Obama is a fan of Key & Peele, which is pretty much the best show.