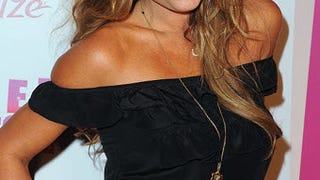 Rachel Uchitel, perhaps the best-known of the Tiger Woods coterie, and (she would say) perennially misunderstood, has also said she suffers from love addiction. (That's in addition to the Xanax and uppers habit that put her in Celebrity Rehab.)
Says the Daily Beast, "would-be stalkers are often particularly transfixed by women who appear regularly on TV, playing emotionally vulnerable working women, not in stable relationships-characters with 'strength but also an affectional hunger.'" In other words, rom-com heroines?
A lot of essays nowadays leave us thinking, "I really hope this writer's kids never grow up and read this on the Internet. And they will." Yesterday's NY Times "Modern Love" column is no exception... but there's a twist:
According to new research, women in bad marriages are more likely to have high blood pressure and other risk factors for heart disease. Interestingly, unhappy husbands did not show physiological damage to their health.
Everyone knows the story of Romeo and Juliet: tragic, star-crossed lovers who (spoiler alert!) are only allowed to truly remain together in death. An apothecary helped to seal their oh-so-cruel and romantic fate, but perhaps old RoMo and Jules Cap should have gotten a second medical opinion for their love woes, as an…
Apparently, falling in love can seriously damage your health, says a report in the Daily Mail. And we don't just mean contracting herpes! "Our pupils dilate, our palms become sweaty and the heart rate increases. We have large amounts of adrenaline running through our system and that does cause problems for the body,"…