Donald Trump, who lost pretty badly in Iowa last night, would like to congratulate himself.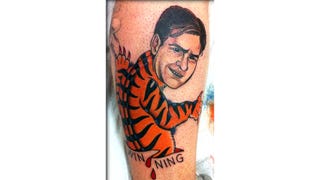 Caption: A New York man has got this 'winning' Charlie Sheen tattoo - featuring the troubled actor's head attached to the body of a tiger. The man, as yet unidentified, was talking to his tattoo artist pal Mike Nomy about the star's recent exploits. When Mike, who works at South Shore Tattoo in Amityville, New York,…
Glendale, AZ, January 1: UConn fans watch as their football team is defeated by Oklahoma in the Fiesta Bowl.
[Lousville, KY, November 6: Zenyatta crosses the finish line in second place during the Breeders' Cup World Championships yesterday. This is the first race the mare has ever failed to win. Image via Getty.]