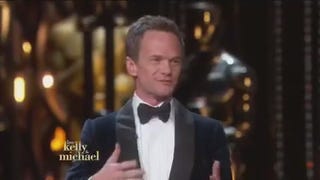 Neil Patrick Harris, host of the 2015 Oscars, explained the, er, shapeliness of his peen during last night's show on Live with Kelly and Michael Monday morning and it's all about doubling up. Unfortunately, it was one of the most interesting parts of the 17,000 hour show, which tells you something.
Sometimes people twerk and it's embarrassing; other times people twerk and it's downright delightful because they know they look crazy and they aren't trying to peddle black culture (ahem, Miley). Their goal is simply a cheap laugh at their own expense. Case in point: This morning, Helen Mirren put her hands on her…
As part of Mittens Romney's ongoing image renaissance, he and Ann Romney stopped in for a chat on Live! With Kelly And Michael. The interview airs Tuesday, but a partial transcript is available over on The Washington Post.