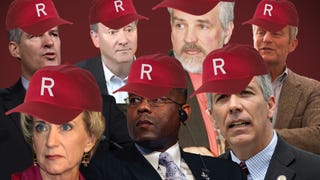 Well, well, well, America. You're so much less awful than I thought. With horror stories of suppression and fuckery being whispered from Ohio to Florida, many nervous Obama voters braced for the worst yesterday, only to be rewarded with what basically amounts to the election equivalent of the pony they thought Santa…
Some call it the culmination of the American political process, others call it Bullshit Christmas Eve — however you swing it, tonight, we come to the end of the three ring binder circus that we call the election season (you know, barring excessive, obnoxious litigation. Which is likely). But while we were all…
You've heard of "legitimate rape" and "forcible rape" and "rape rape" and (thanks, Ron Paul!) "honest rape," but have you heard the new rape hotness? Last night, during a debate between Connecticut Senate candidates, Republican upper house hopeful Linda McMahon explained her view on emergency contraception by…
We women loooove getting a peek at what other women are carrying in their purses. I'm kidding around, because it's such a tried-and-true ladymag spread, but I'm also undeniably a sucker for a good "What's In Her Bag?" article, too. (I'm also still patiently waiting for the day when someone asks to photograph what's…
Since January 1, 161,203 ads have aired targeting Speaker Nancy Pelosi. They cost a total of $65 million, a record-breaking figure, according to CNN. That managed to topple Pelosi's majority, if not her leadership. Money was less effective elsewhere.
The New York Times set about to find out why women are left cold by McMahon:
Meg Whitman just brought her contribution to her own campaign to $104 million. Linda McMahon spent $25 million in the Connecticut primary, promising to spend up to $50 million. It makes Carly Fiorina look like a cheapskate. Is this equality?
The Republican nominee for Senator from Connecticut is former WWE chief executive Linda McMahon, whose yacht is named Sexy Bitch, who once publicly kicked her husband in the crotch — and who knows how women really talk to each other.
Last night's primaries were a mixed bag both for Democratic control of Congress and for women in politics. Among other races, Republicans picked Ken Buck for Colorado Senator — because he doesn't wear high heels?