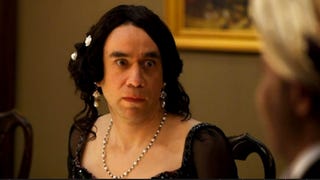 When it comes to Downton Abbey parodies, one really can never get enough. That's why it's most fortunate that Jimmy Fallon has decided to bring us Downton Sixbey. Enter into the estate that is contained within the halls of Studio 6B, and you will encounter a suspiciously masculine-looking Dowager Countess, a painfully…

Almost nothing is more fun, on a cold winter's night, than gathering around the fire with your friends and playing a game of Mad Libs. And Jimmy Fallon did it right: he busted out 'Twas the Night Before Christmas and asked a few of his recent guests—Patton Oswalt, Jack McBrayer, T.I., Jesse Eisenberg, Zac Efron, and…
Thank goodness that Amy Sedaris was on Late Night last night, or we wouldn't have been blessed with the best way to grill up hot dogs for our holiday picnics this weekend. But as she demonstrates with Jimmy Fallon and Will Forte, the process could wind up turning into a sexually-charged, penis-joke gigglefest — not…
Though Jason Bateman's been in the acting business for nearly 30 years, that doesn't mean his career is without a few embarrassing mishaps along the way. Topping the list of his lesser moments was Teen Wolf Too — the rarely-praised sequel to Michael J. Fox's iconic original. Last night on Late Night, Bateman got the…
At this point, I think we can all agree that Ryan Gosling's press tour for his lastest movie has been a rousing success — with each interview, he's been charming and wry and amazing. He lifted Al Roker, for chrissakes! Then: Just when we thought we could not love him any more, he brought his best buddy George with…
On last night's Late Night, Jimmy and JT jumped out of their chairs to perform a sequel to their viral-y "History of Rap." In this second edition, songs ranged from OutKast's "Hey Ya!" and DJ Kool's "Let Me Clear My Throat" to DMX's "Up In Here" and Cyprus Hill's "Insane In The Membrane."
Last night, Michael Cera told Jimmy Fallon about the day he spent hanging out with the Jersey Shore cast. They engaged in Italian traditions like blowing out his hair and eating pizza.
Her impression of Brad Garett is terrible; her "original character" is totally bizarre. And by all this I mean: Adorable and totally refreshing! Clip above.