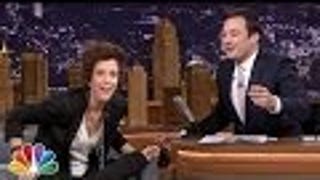 On Tuesday night's episode of The Tonight Show with Jimmy Fallon, Kristin Wiig Harry Styles stopped by. Interestingly, Harry's actual style is the same, but his accent, knowledge of One Direction's origin story and ability to sing the band's hit song "What Makes You Beautiful" seems to have...shifted.

Katy Perry made her debut as a Saturday Night Live host last night, and it was a show filled with just as many actual celebrities as celebrity impressions. Perry was heavily featured—and there weren't nearly as many boob jokes as initially predicted—but Alec Baldwin, Matt Damon, Val Kilmer, and Darrell Hammond also…
Angelina Jolie is busy shooting her film about the Bosnian war, but has taken a moment to speak out about the plot of the script she wrote.