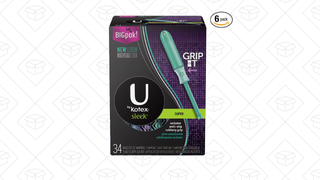 Tampons are not super fun to buy, so just stock up on them now and skip the mid-cycle emergency runs.
As a man without a functioning uterus (I believe this is the second time I've begun a post on Jezebel.com with those words), I couldn't possibly begin to imagine what the monthly process of menstruation does to one's psyche. Though my fundamental understanding of the messier physical aspects makes it easy to…
As we've covered before, Kotex were launched onto the American market in the early 20s with callbacks to World War I. A few decades later, they were taking a more conventional approach: needling at your social anxieties. Girls in the know get Kotex; girls without a fucking clue about how to act use some other brand!
On Monday, Jan. 7, the benevolent corporate entity known as Kimberly-Clark will launch an ad campaign for its U by Kotex brand that unabashedly discusses the sundry myths shrouding ladyparts. "Generation Know", which was devised in part by Ogivly & Mather, will feature 30- and 15-second TV spots in which young women…
Here's a tale that will make you instinctively cross your legs at the ankles and do an involuntary Kegel — a woman who discovered that her unused Kotex tampons were covered in mysterious black spots was told by the manufacturer that she should cool her jets because the substance on her tampons was harmless bread mold.…
We've had some time to process Kotex's introduction of pads with pretty designs for women to bleed all over, but we weren't aware that the limited-edition "Designer Series" also includes tampons. Kristi Bryant, a Kimberly-Clark design manager, says the new line is an "extension of today's young women's personal…
"Basically it's a period party, and every girl is invited." Including former America's Next Top Model contestant Kim Stolz, who road trips to Six Flags in St. Louis with her alleged best girlfriends to talk periods for this Kotex advertorial.
Click to viewYou already know that people have trouble saying the word vagina, and that euphemistic tampon marketing is absurd. The first round of Kotex ads indicated that their agency actually knew that too. The latest round is even better.
Did you know that when you're menstruating you're no longer dainty? That's the gist of this vintage Kotex ad. "8 in 10 women of the better classes have adopted it," the copy sniffs. Wow. (Click picture to enlarge.) [Feministing]