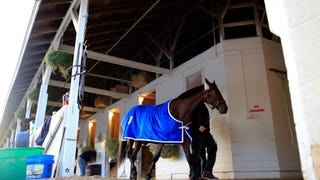 Every year when we would sit to watch the Kentucky Derby, my mother would inevitably make corny jokes about the names of all the horses. It was one of my favorite parts of race day. Of course, we'd wonder exactly how or why race horses end up with names like Notacatbutallama, Ononitsmymotherinlaw or Doremifasolatido.
Johnny Weir and Tara Lipinski are working as NBC fashion commentators for the Kentucky Derby this weekend, which meant that Friday on The Today Show they gave us a taste of what they were going to bring to the table fashion-wise. For Tara, that translated into tasteful black feathers. For Johnny, that meant a crazy…
It rained Saturday during the 139th Kentucky Derby at Churchill Downs, and the inclement weather meant a lot of the hats were kept under wraps. That said, some VIP managed to don fine spring fashions and elaborate hats, in keeping with tradition.
Twenty-three year old Rosie Napravnik learned to ride horses before she could walk. This weekend, she will be the jockey on a horse called Pants On Fire, and possibly be the first woman to win the Kentucky Derby. According to CBS News, only five women have ever ridden the in the Kentucky Derby. Not one of them…
It is a tradition at the Kentucky Derby that all in attendance drink mint juleps and wear fairly ridiculous looking hats. This year was no exception:
Good God. Just moments after finishing 2nd at the Kentucky Derby a few minutes ago, a filly named Eight Belles (seen at far left, she was the only female horse in the 20-horse race) broke both of her front ankles while pulling up, collapsed on the track, and was euthanized on the spot. Did NBC make anything but a…
Paris Hilton has rehired the publicist she just fired for misleading her into thinking that the legal document she sihned (sic!) meant she couldn't drive for 45 days if she could actually read it. Also, Paris has appealed to Governator Arnold for leniency, though we hear it's only because she got him mixed up with…