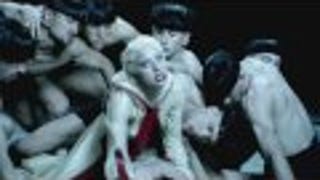 After weeks of buzz, hype, "leaked" snippets and anticipation, the video for "Alejandro" has hit the web. Guess what?
In the song, Gaga details her level of intoxication: She's lost her keys, she's lost her phone, she can't see straight, she's forgotten the name of the club she's in, and she can't figure out why her shirt is turned inside out. Still, everything is "gonna be okay"-until Colby O'Donis enters the scene and announces…
Since she's the opening act at the Grammys on Sunday, both the Wall Street Journal and the Times Of London have pieces on Lady Gaga, and you've got to love the things random people say about her:
Lady Gaga was on Oprah today, and she talked about her creative process, her love of stripper shoes, and how much she likes chicken and waffles.