Do you remember that scene in Jurassic Park when Dr. Grant (Sam Niell) and Dr. Sattler (Laura Dern) ask Dr. Hammond (Richard Attenborough) whether or not he has a Tyrannosaurus Rex on the island? You know, when that wackadoo billionaire giggles and says, "We have a T-Rex," and then Grant just about has a heart attack…
Jurassic World is delighting audiences, smashing box office records, and making people excited about dinosaurs again. But did you notice the movie is also sort of terrible? If the new installment of Jurassic Park left you with questions, our patented Spoiler FAQ has the answers you didn't even know you needed!

With the release of Jurassic World just around the corner, we wanted to revisit the Steven Spielberg classic that started it all. 1993's Jurassic Park has its share of great male characters (hello, Dr. Ian Malcolm!), but is most notable for its abundance of female roles. Below is our list of the 10 best female…
Jeff Goldblum continues to live the very chillest of lives: Yesterday he stopped by Late Night and treated Seth Meyers and audience to a special version of the Jurassic Park theme. Sample lyrics: "I'm so scared that I'll be eaten." He proceeded to lead a sing-along.
Goats are everywhere: Singing the national anthem, stampeding across the Internet, and now they're covering the theme song to Jurassic Park, the greatest summer blockbuster of all time (I am prepared to fight for this claim).
I think I've made my feelings on Jurassic Park pretty clear (DINOS DINOS DINOS I AM PRO), but I wasn't certain how to feel about the announcement back in March that a Jurassic Park 4 was to be a thing. I mean, the first two sequels were sooooo garbagey—and it's such a weird progression to be like, "Yeah, we know we…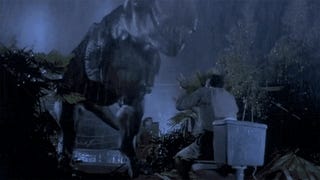 When I was 12, in 1994, I basically did three things: watch The Fugitive, watch A League of Their Own, and watch Jurassic Park. Oh, and listen to Weird Al's "Off the Deep End." Four things. Over and over and over. (Oh!!! And play that Yo! Noid Nintendo game! Five things! But this is not relevant.) In that…